HIV Becomes a Crisis in Mississippi
In the future, everyone will be famous for fifteen minutes.

-- Andy Warhol

The health crisis I had observed in New York City, Seattle, and San Francisco had become a crisis in Missississippi as well. The Centers for Disease Control even designated my home town of Jackson as an AIDS hot spot.
In 2010, only Charleston, SC had a worse prevalence of HIV than Jackson, MS among the 13-24 age group. Even Los Angeles, Washington, DC, and Miami were doing better at reducing rates in this population.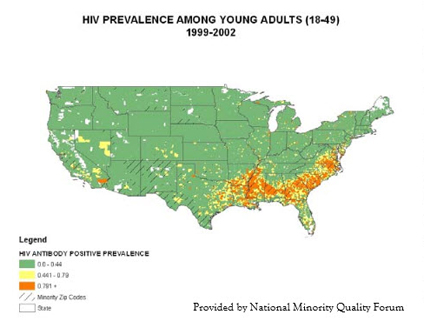 As the map above illustrates, the epicenter of the HIV epidemic has moved out of the coastal urban areas and invaded the rural areas of the South. The broad swath of red towards the left is the Mississippi Delta.
An analysis of Mississippi Department of Health data confirmed the significance of HIV prevalence and incidence in Mississippi, demonstrated pervasive structural problems, and established a link between HIV infection and key social determinants such as poverty, inequality, and lack of access to healthcare.
The problem, the crisis, of HIV in Mississippi was not unrecognized or undocumented. The SHARP Project at Harvard Law School's Health Law and Policy Clinic issued a report in 2010. Human Rights Watch published a report in March 2011, and a follow-up in 2013.
Harvard Law School and Human Rights Watch were but the latest to raise the alarm about rising rates of HIV in Mississippi. The Southern States AIDS/STD Directors Working Group released the first Southern States Manifesto in March 2003. The Southern AIDS Coalition issued an update in July 2008, and a second update in July 2012.
Just this month, April 2014, the Southern HIV/AIDS Strategy Initiative released its report showing that, notwithstanding more than a decade of documentation of a serious public health problem, significant hurdles remained, and disappointingly little had been done, The band was still playing on, but now with a Dixie flair.


Please use the links below to reach other areas of this site:

Last revised: June 5, 2015.